Solana Beach Active Transportation Program Application
The City of Solana Beach is applying for a grant through the State of California's Active Transportation Program (ATP) application process. This is the first year that Federal and State money have been pooled together and there is $360M to be awarded (3 years of funding on the table right now).  The statewide competition will award $180M of the total and applications are due to Caltrans before May 21.
The purpose of ATP is to encourage increased use of active modes of transportation here in California by achieving the following goals:
Increase the proportion of trips accomplished by biking and walking
Increase safety and mobility for non-motorized users
Advance the active transportation efforts of regional agencies to achieve greenhouse gas reduction goals
Enhance public health
Ensure that disadvantaged communities fully share in the benefits of the program
Provide a broad spectrum of projects to benefit many types of active transportation users
For more information, please go to http://www.dot.ca.gov/hq/LocalPrograms/atp/
We are pleased that the City of Solana Beach's ATP application includes as its main component an infrastructure project for Stevens Avenue.  This project will greatly improve this widely used transportation corridor enhancing the area for the many school children walking and biking to and from school, La Colonia Park, and the Boys and Girls Club.  It will also benefit other members of the community traveling to and from work, shopping, and other areas of our City.  BikeWalkSolana would also like the City to include improvements to Lomas Santa Fe Drive, with school routes specifically in mind.
A second component of the City of Solana Beach's ATP grant supports educational and encouragement projects.  Specifically, BikeWalkSolana has asked the City to include a Safe Routes to School (SRTS) program to complement the planned infrastructure improvements in the City's grant application.  The mission of SRTS "is to advance safe walking and bicycling to and from schools, and in daily life, to improve the health and well-being of America's children and to foster the creation of livable, sustainable communities." (http://saferoutespartnership.org/about)
Letters of Support Request
BikeWalkSolana is reaching out to members of the Solana Beach community to request important letters of support backing the City of Solana Beach's grant application for the State of California's Active Transportation Program (ATP) funding. Your letter of support will enhance the ATP application and improve the probability of an award to the City. This funding will provide a huge benefit to our wonderful community.  Make your voice heard!
Click here for a sample letter which you may use and modify as you see fit.  We encourage you to include remarks from your unique perspective.  Please sign and provide your letter to the City of Solana Beach, attention Dan Goldberg at This email address is being protected from spambots. You need JavaScript enabled to view it. .  We ask you to please copy BikeWalkSolana member Kristine Schindler at This email address is being protected from spambots. You need JavaScript enabled to view it.  as we are supporting the City's grant application efforts by coordinating this letter writing campaign.
Please contact This email address is being protected from spambots. You need JavaScript enabled to view it.  if you have any questions and/or need assistance with your letter.  Letters must be received by the City of Solana Beach before May 14 to be included as part of the grant application.  We ask that you target having the letter sent to the City by the end of April, if possible.  As well, please provide the letter on your organization's letterhead, sign, and scan the letter to submit via email to Dan Goldberg.
Comprehensive Active Transportation Strategy (CATS) Workshop February 20
The City of Solana Beach was recently awarded a SANDAG grant to prepare its first Comprehensive Active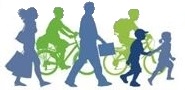 Transportation Strategy (CATS). The goal of this active transportation strategy is to provide people of all ages and gender the ability to travel freely by walking and bicycling to all destinations within Solana Beach and surrounding areas. The CATS will identify opportunities to improve both bicycle and pedestrian networks by increasing connectivity and enhancing safety for all users. When complete, the CATS will serve as the latest updates to the City's Bicycle and Pedestrian Master Plans.
The success of the CATS will, in part, depend on how well the outcomes reflect and address the concerns and suggestions raised by Solana Beach residents, business interests, and stakeholders. The first CATS Community Workshop is scheduled for Thursday, February 20th, 2014 at the La Colonia Community Center from 4:30pm to 6:30pm. Please see the CATS Workshop Flyer and CATS Project Fact Sheet for more information. Further information about the CATS program can also be found at http://sbcats.info.
The workshop is a great opportunity to learn more about the project and provide input as to where the City of Solana Beach can make bicycle and pedestrian related improvements. Please help BikeWalkSolana get the word out and forward this information to anyone that might be interested. We hope you can join the CATS Project Team, Solana Beach leaders, and BikeWalksolana at the Workshop - see you there!
Whether you can attend this first Workshop or not, please fill out either or both of the CATS bicycle and pedestrian surveys at 
http://sbcats.info/surveys
prior to Feb. 20. Your input will be heard. A second and final CATS Community Workshop will be announced in a couple of months.
BikeWalkSolana Awarded Community Grant
At the December 11 Solana Beach City Council Meeting, the City Council approved BikeWalkSolana's request for continuing our efforts to educate parents and their children on safe cycling through our Bike Safety Rodeos. Many thanks to the City Council for providing the funding, via its Community Grant Award Program, to support these events! We look forward to serving more members of our wonderful community in 2014.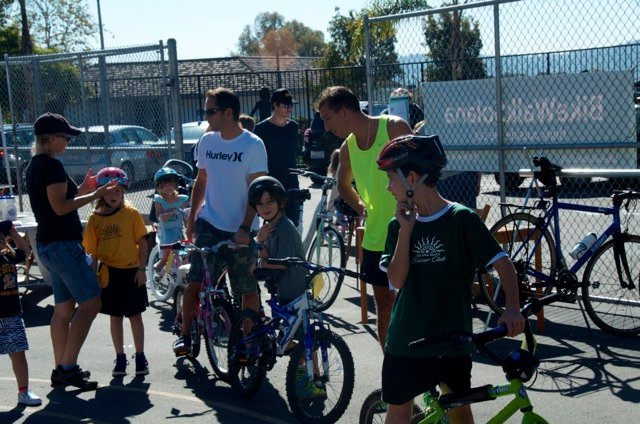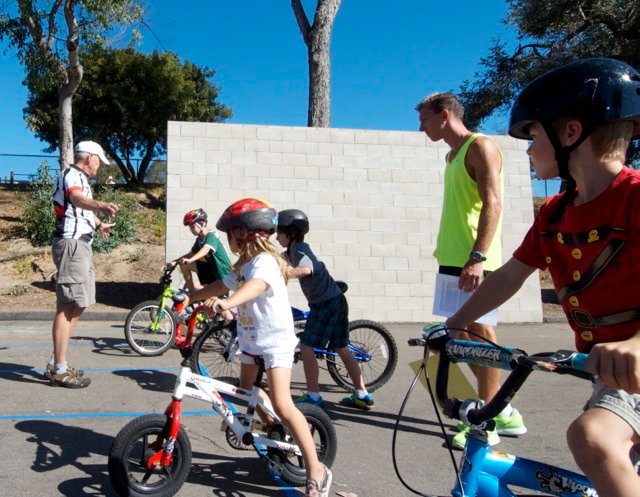 Sharrows In Use
The new green background sharrows recommend to cyclists the safest position for cycling southbound in Solana Beach. In the photo, the cyclists are riding directly over the sharrow and cars behind are changing lanes to pass on the left. Motorists are discovering this is not an inconvenience and the cyclists, due to their lane position and their naturally increased visibility in the lane feel much safer, as indicated by the smiles on their faces.
Sharrows Are Coming
Solana Beach's Highway 101 renovation project will conclude with new symbols on the roadway, called sharrows, to improve safety for both cyclists and motorists sharing the west-most southbound lane through Solana Beach.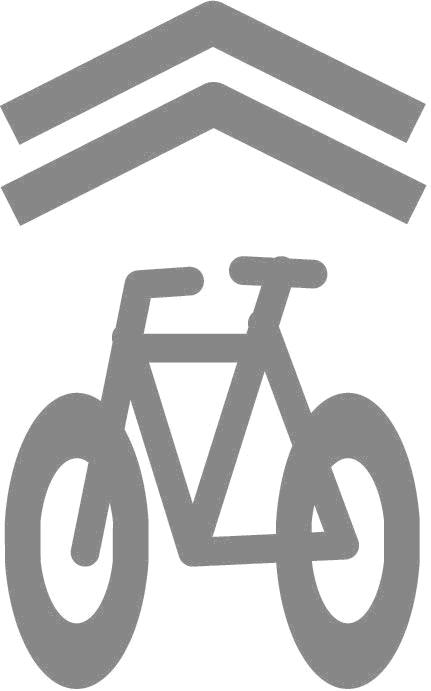 This will provide continuity with the sharrows which have been placed on Hwy 101 in Encinitas and Leucadia by the City of Encinitas. The sharrows do not indicate a bike lane, but rather are a guide to tell cyclists that this is the safest position for riding, according to California law. It also tells motorists to not be surprised when a cyclist takes that position and to use the lane to the left if they choose to pass the cyclist(s) ahead following the sharrows. It is therefore a two-sided educational tool, for both cyclists and motorists, to clarify the California law which has always been in place for a sub-standard width lane, such as the west-most southbound lane, due to the parking on that side of the street. For more information from the City of Solana Beach on the new sharrows, visit this page. For a discussion of sharrows and bike lanes provided by the San Diego County Bicycle Coalition, see this excellent flyer.
To complement the sharrows, which will be placed on the pavement, roughly in the middle of the l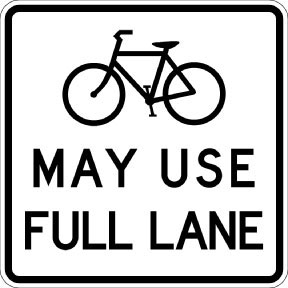 ane, there will be a few signs which read "Bicycles May Use Full Lane." Both of these indicators are somewhat new and have been appearing all over California and San Diego, since they were officially approved in 2005 (sharrows) and 2009 ("may use full lane"). Although the goal is to improve transportation safety, a side benefit is to make traveling by bike and car more enjoyable because everyone will know where cyclists should be riding.