A Kids' Bike Safety Rodeo event will be held in Solana Beach on Saturday, November 9. The event is co-sponsored by BikeWalkSolana, Del Sol Lions, City of Solana Beach, Revolution Bike Shop and GoodOnYa Bars. Kids and parents are encouraged to bring their bikes and helmets to the Solana Beach Bike Safety Rodeo any time between 10 a.m. and noon at Skyline Elementary School, 606 Lomas Santa Fe Dr., Solana Beach. Families arriving by bike or foot will receive a bonus prize.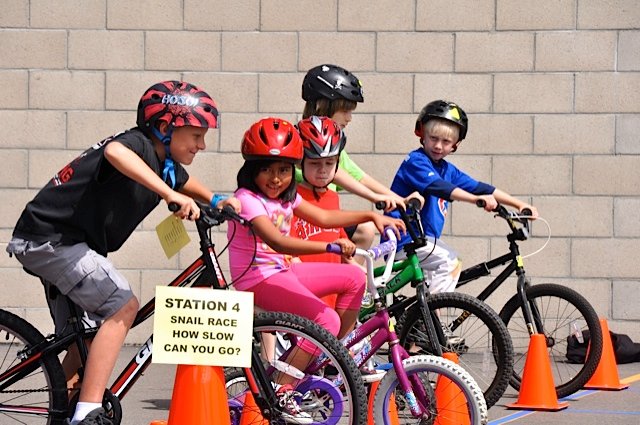 The Solana Beach Bike Safety Rodeo teaches elementary school students and their parents the importance of fun and safe bicycle riding through a series of interactive stations. The stations include a bike safety inspection, helmet fit check, and road skills emphasizing starting, stopping, bike handling, safe riding on streets, and having fun. It will take about 30 minutes to run through this learning experience, led by a League of American Bicyclists League Cycling Instructor (LCI).
Thanks to the Del Sol Lions who have provided funding and volunteers for the rodeo, and to Revolution Bike Shop who will have a mechanic on hand as the children check-in to ensure tires are correctly inflated, and the bikes are adjusted and in good working order. 
Cargo 101 is an introduction to using a bicycle to carry kids, passengers and stuff. All levels of experience are welcome. See what people in San Diego and other countries are riding to haul. Learn about the different kinds of cargo bicycles as well as racks, baskets and panniers. Ride a cargo bike! Several styles of cargo bicycles will be available for test riding. Join Judi and Laurel for a closer look at joyful and useful pedal power transportation. Light snacks will be provided.


The class will be held locally in Solana Beach at Velo Hangar / Alterna Bike on Valley Ave.
When: Thursday, October 24th- 5:30- 7:30 PM
Where: Velo Hangar / Alterna Bike 637 Valley Avenue #C, Solana Beach, CA 92075
The new green background sharrows recommend to cyclists the safest position for cycling southbound in Solana Beach. In the photo, the cyclists are riding directly over the sharrow and cars behind are changing lanes to pass on the left. Motorists are discovering this is not an inconvenience and the cyclists, due to their lane position and their naturally increased visibility in the lane feel much safer, as indicated by the smiles on their faces.
The ribbon cutting for the Highway 101 Project completion will take place at Fletcher Cover on Sunday, September 22. At the end of this ceremony, bicycle community leaders will highlight the new sharrows (shared lane markings) and discuss their purpose and how both cyclists will use the new signage, which aids in enforcing long-standing laws regarding bicycle position on the road. This will be followed immediately by a Joy Ride along 101, highlighting the new signage and their use. Join in on this ride and participate in the free raffle drawing enabled by contributions from Revolution Bike Shop, Trek Superstore, Velo Hangar, B&L Bike, and San Diego Electric Bike. Ride the sharrows with smiles and have a chance at winning a prize as well! More details on the event at facebook.com/bikewalksolana.
Bike Solana Beach bike racks installation.
Solana Beach's Highway 101 renovation project will conclude with new symbols on the roadway, called sharrows, to improve safety for both cyclists and motorists sharing the west-most southbound lane through Solana Beach.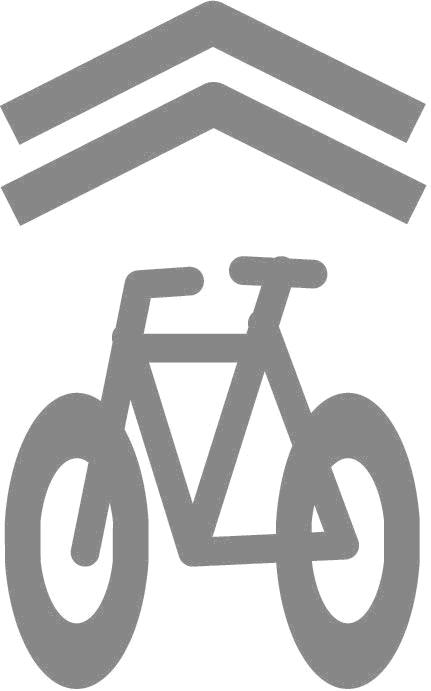 This will provide continuity with the sharrows which have been placed on Hwy 101 in Encinitas and Leucadia by the City of Encinitas. The sharrows do not indicate a bike lane, but rather are a guide to tell cyclists that this is the safest position for riding, according to California law. It also tells motorists to not be surprised when a cyclist takes that position and to use the lane to the left if they choose to pass the cyclist(s) ahead following the sharrows. It is therefore a two-sided educational tool, for both cyclists and motorists, to clarify the California law which has always been in place for a sub-standard width lane, such as the west-most southbound lane, due to the parking on that side of the street. For more information from the City of Solana Beach on the new sharrows, visit this page. For a discussion of sharrows and bike lanes provided by the San Diego County Bicycle Coalition, see this excellent flyer.
To complement the sharrows, which will be placed on the pavement, roughly in the middle of the l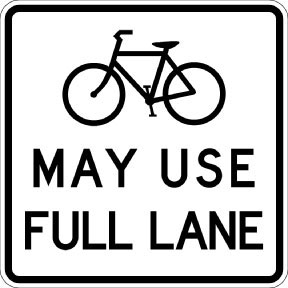 ane, there will be a few signs which read "Bicycles May Use Full Lane." Both of these indicators are somewhat new and have been appearing all over California and San Diego, since they were officially approved in 2005 (sharrows) and 2009 ("may use full lane"). Although the goal is to improve transportation safety, a side benefit is to make traveling by bike and car more enjoyable because everyone will know where cyclists should be riding.