Solana Beach New Year Joy Ride 2017
Please join us for a community bike ride around town on Saturday, January 7, 2017. There are two ride options. The shorter one is geared toward familes with children or folks who may be new to riding on roads and our Coastal Rail Trail. The longer one will also highlight the coast, but will head inland to go down Stevens to highlight upcoming improvements to make that a really friendly corridor for all road users. Rides will be led by experienced ride leaders who will review safety tips before and during the ride.
May is National Bike Month 2016
May is National Bike Month, where each year the focus is to get more people out on bikes as a mode of transportation. This is good for everyone's health, the environment, and a way to make more out of your trip to school or work. There are a couple of special days during the month to really encourage leaving your car in the garage and biking or walking to your destinations. The first is Bike To School Day, which is Wednesday, May 4 this year. Students are encouraged to go to school car-free that day by walking, biking, scooter, etc. This year's Walk 'N Roll event is co-sponsored by BikeWalkSolana and the Solana Beach PTA. The second event on Friday, May 20 is San Diego's Bike To Work Day. There will be several pit stops throughout the county, where commuting cyclists can stop for refreshment, nourishment, and other goodies. Details for all local events can be found on SANDAG's iCommute Bike Month page. Enjoy commuting to work and remember: "Every day is a bike to work day."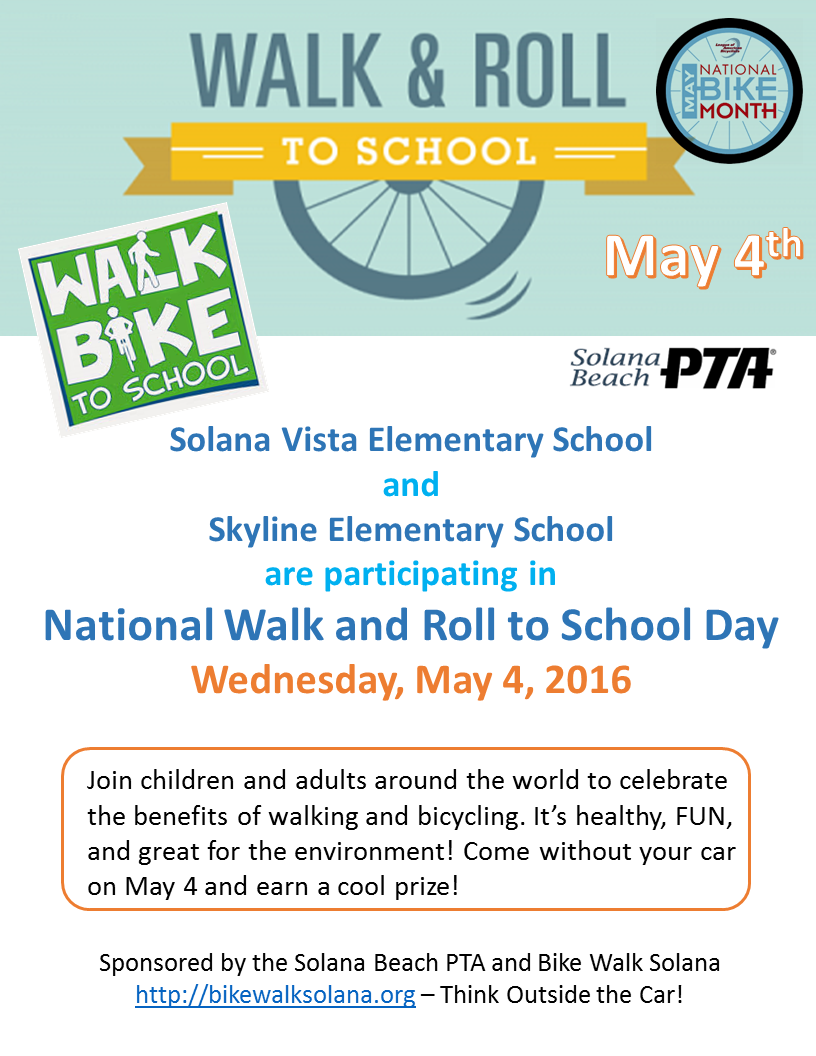 Ride Your Bike to Farmers Open at Torrey Pines
Once again, the San Diego County Bike Coalition is offering free Bike Valet Parking to everyone who rides their bicycle to the Farmers Open PGA golf tournament at Torrey Pines, Jan 28-31. Farmers Insurance donates $10 to the Coalition for every bike checked in throughout the four days. This is the most convenient way to get to the tournament from Solana Beach and Del Mar areas, as it avoids traffic, the cost and hassle of offsite parking, and gives you a chance to get some exercise along the coast and up to Torrey Pines. Additionally, you can get 30% off your tickets if you purchase them through the Del Sol Lions at http://DelSolLions.org. Enjoy a day or more of watching the golf professionals and getting in a nice bike ride, too!
Children's Bike Safety Skills at Skyline Nov 18
Once again, BikeWalkSolana, in partnership with the City of Solana Beach, the Del Sol Lions Club and Revolution Bikes will host a fall Children's Bike Safety Class at Skyline Elementary on Wednesday, November 18. Kids and parents can arrive any time between 12:30 and 2:00 pm on this minimum school day. Free flashing red taillights will be given to the firs 100 kids, who will also receive an "official" Bicycle Drivers License with Photo ID. John Gadbois of Revolution Bikes will inspect bikes for safe operation, helmets will be checked for fit, and the kids and parents will learn about safe bicycing around Solana Beach through a series of interactive stations on their bikes. The stations will emphasize proper riding, safety tips for riding on the roadway, and bicycle skills. Any adults interested in volunteering for the November 18 event should contact Karl Rudnick at This email address is being protected from spambots. You need JavaScript enabled to view it.. The event that was held last spring was covered in this Solana Beach Sun article.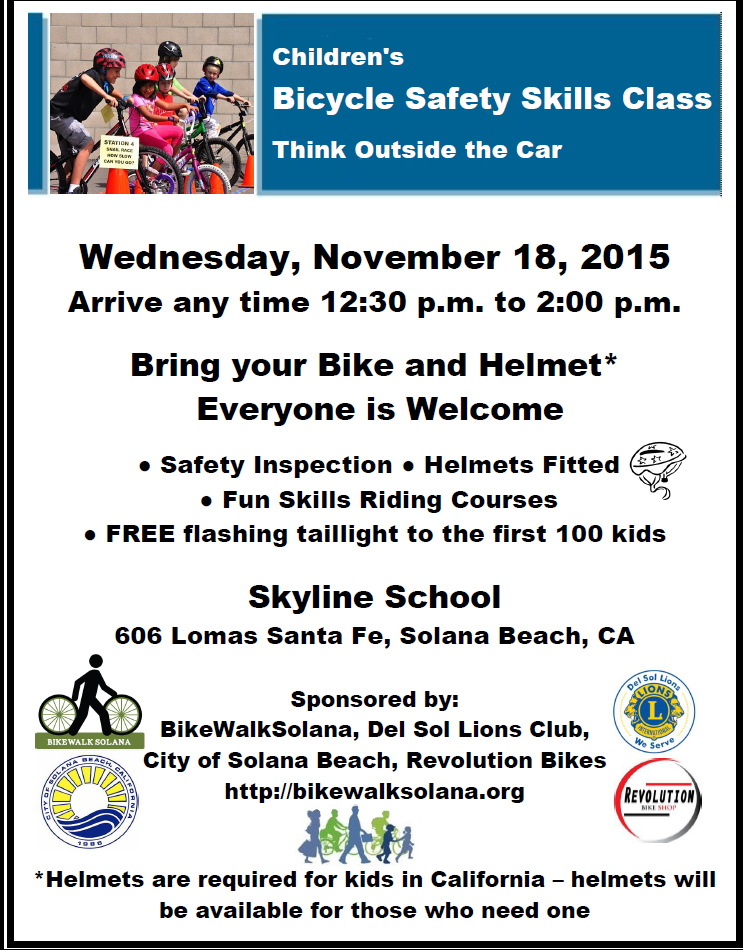 For more photos, visit the BikeWalkSolana Photo Gallery.
Review Solana Beach CATS - Bicycle and Pedestrian Plans for the Future
The City of Solana Beach has prepared a Comprehensive Active Transportation Strategy (CATS) plan that, if adopted, would lay the foundation for improved bicycle and pedestrian facilities within the City and connections to adjacent jurisdictions and greater regional networks over the next 15 years. The draft version of the final CATS has been available on the City's website for review since April 22 - click here to view and/or download. If you have not yet read and wish to comment on the CATS, please read it and send your comments to Dan Goldberg at This email address is being protected from spambots. You need JavaScript enabled to view it.. Comments must be received no later than 5pm, May 21. If you have any questions, please contact City Hall at 858-720-2400.