Children's Bike Safety Skills at Skyline Nov 18
Once again, BikeWalkSolana, in partnership with the City of Solana Beach, the Del Sol Lions Club and Revolution Bikes will host a fall Children's Bike Safety Class at Skyline Elementary on Wednesday, November 18. Kids and parents can arrive any time between 12:30 and 2:00 pm on this minimum school day. Free flashing red taillights will be given to the firs 100 kids, who will also receive an "official" Bicycle Drivers License with Photo ID. John Gadbois of Revolution Bikes will inspect bikes for safe operation, helmets will be checked for fit, and the kids and parents will learn about safe bicycing around Solana Beach through a series of interactive stations on their bikes. The stations will emphasize proper riding, safety tips for riding on the roadway, and bicycle skills. Any adults interested in volunteering for the November 18 event should contact Karl Rudnick at This email address is being protected from spambots. You need JavaScript enabled to view it.. The event that was held last spring was covered in this Solana Beach Sun article.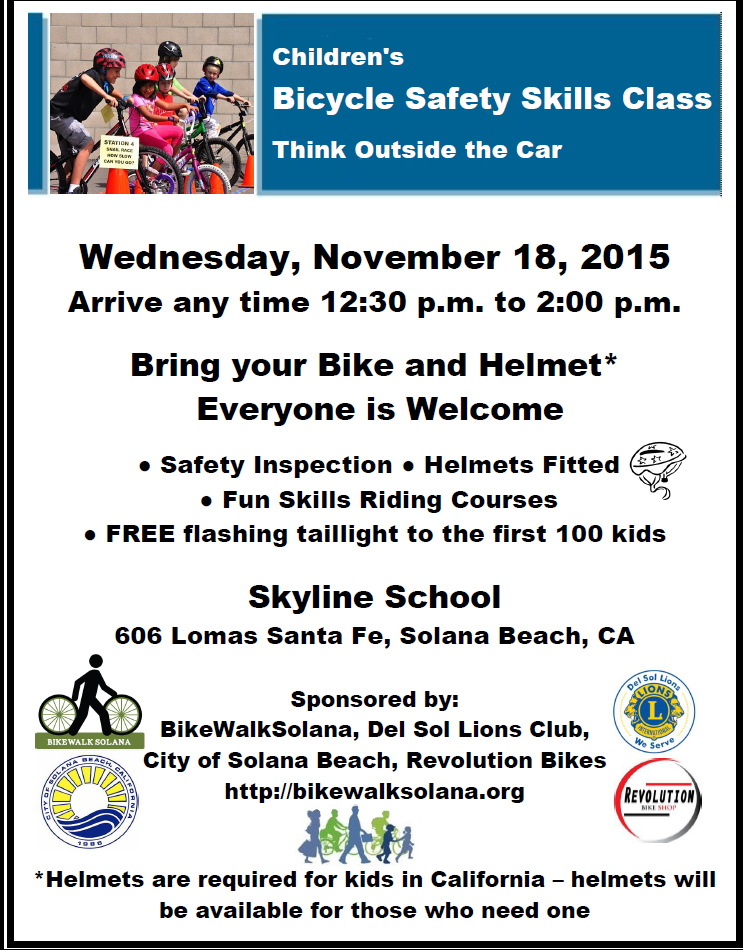 For more photos, visit the BikeWalkSolana Photo Gallery.
Review Solana Beach CATS - Bicycle and Pedestrian Plans for the Future
The City of Solana Beach has prepared a Comprehensive Active Transportation Strategy (CATS) plan that, if adopted, would lay the foundation for improved bicycle and pedestrian facilities within the City and connections to adjacent jurisdictions and greater regional networks over the next 15 years. The draft version of the final CATS has been available on the City's website for review since April 22 - click here to view and/or download. If you have not yet read and wish to comment on the CATS, please read it and send your comments to Dan Goldberg at This email address is being protected from spambots. You need JavaScript enabled to view it.. Comments must be received no later than 5pm, May 21. If you have any questions, please contact City Hall at 858-720-2400.
Bike to Work Day Postponed to May 29
This year's Bike to Work Day has been moved from its regularly scheduled May 15 to May 29 due to May 15 weather predictions of heavy rain and potentially unsafe riding conditions. All events, pit stops, etc. scheduled for May 15 will now take place on May 29. More information on the SANDAG/iCommute Bike to Work page.
Children's Bike Safety Skills at Skyline
BikeWalkSolana, in partnership with the City of Solana Beach, the Del Sol Lions Club and Revolution Bikes hosted its spring Children's Bike Safety Class at Skyline Elementary on Wednesday, March 11. John Gadbois of Revolution Bikes inspected bikes for safe operation, helmets were adjusted and checked for fit, and the kids learned about safe bicycing around Solana Beach through a series of interactive stations on their bikes. The stations emphasized proper riding, safety tips for riding on the roadway, and bicycle skills. Each child who successfully navigated the course earned a red flashing taillight and a diploma suitable for framing. The event was covered in this Solana Beach Sun article.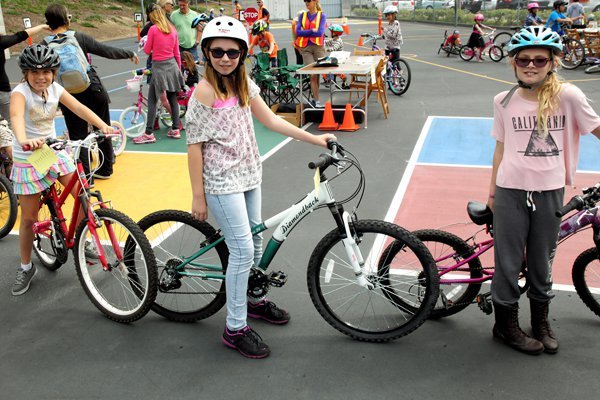 For more photos, visit the BikeWalkSolana Photo Gallery.
BikeWalkSolana - Solana Beach Active Transportation Committee
BikeWalkSolana, formally known as the Solana Beach Bicycle and Pedestrian Advisory Committee (SBBPAC), serves as the voice of the citizens of Solana Beach to assist the city in:
Developing guidelines and policy for cyclists, pedestrians, and travelers.
Fostering growth of cycling and walking within Solana Beach.
Providing a resource center for educating the public.
One of the goals of this advisory committee is to establish Solana Beach as a Bicycle Friendly Community as designated by the League of American Bicyclists (LAB). There are several requirements which need to be met for this designation, one of which is to have a bicycle advisory committee, comprised of interested citizens in the community. Key to the designation are the 5 E's: Engineering, Education, Encouragement, Enforcement, Evaluation and Planning. This committee intends to work with the City Council and City Staff through all the steps which must be taken so that Solana Beach may officially be designated Bicycle Friendly.