Children's Bike Safety Skills at Skyline Nov 18
Once again, BikeWalkSolana, in partnership with the City of Solana Beach, the Del Sol Lions Club and Revolution Bikes will host a fall Children's Bike Safety Class at Skyline Elementary on Wednesday, November 18. Kids and parents can arrive any time between 12:30 and 2:00 pm on this minimum school day. Free flashing red taillights will be given to the firs 100 kids, who will also receive an "official" Bicycle Drivers License with Photo ID. John Gadbois of Revolution Bikes will inspect bikes for safe operation, helmets will be checked for fit, and the kids and parents will learn about safe bicycing around Solana Beach through a series of interactive stations on their bikes. The stations will emphasize proper riding, safety tips for riding on the roadway, and bicycle skills. Any adults interested in volunteering for the November 18 event should contact Karl Rudnick at [email protected]. The event that was held last spring was covered in this Solana Beach Sun article.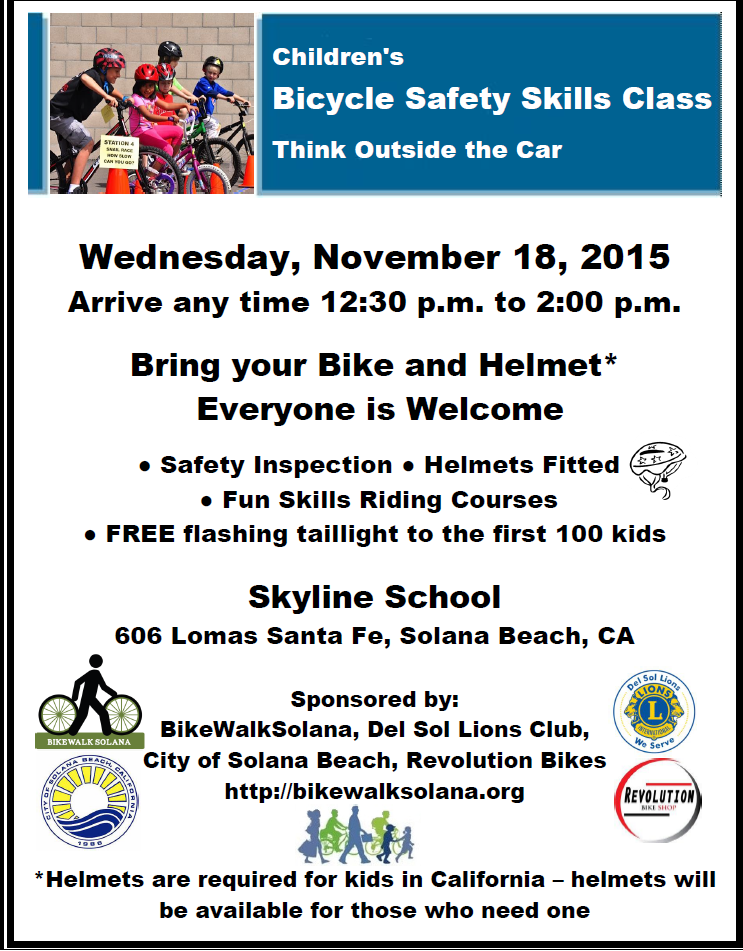 For more photos, visit the BikeWalkSolana Photo Gallery.